Cheap cleaning supplies
Our offer applies to everyone, no matter what you want to buy cleaning products for home or business.
By buying our products in small volume, you can test it and see if it suits you. If all is well, you can always buy a desired product at a higher level, it would be much more profitable.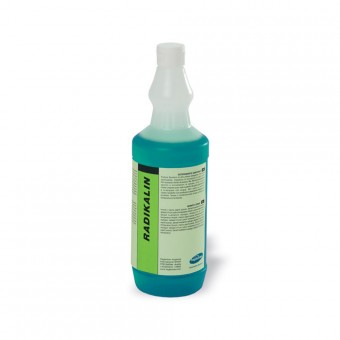 RADIKALIN 1 kg
Highly concentrated detergent, especially developed for the high demands of industrial kitchens. Easily removes greasy soiling from surfaces, floors, cooker hoods etc. Does not foam, therefore also suitable for high-pressure equipment. Do not apply on aluminium.
RADIKALIN application rates:Dilute 100 ml of product per 10 liters of warm water.
RADIKALIN - the best product for kitchen zone. Used to remove greasy and oily pollutions from any surface - table and stove tops,floor,refrigerator.
| | |
| --- | --- |
| before | after |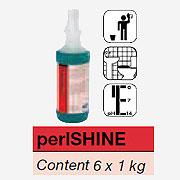 perlSHINE 1 kg
Liquid sanitary detergent for daily maintenance cleaning. Removes lime, soiling and sediments easily. With disinfecting impact and unique effect of pearl gloss. For use in lavatories, urinals and sanitary rooms. Leaves a surface free of drip traces, therefore no dry wiping is necessary. Regular use prevents the emergence of black mould. In case of persistent sediments (e.g. urine) we recommend UROPHEN. Use the sanitary cleanser safely.
perlSHINE application rates:Dilute 25-50 ml of product per 10 liters of warm water

498 ฿THB
orangePOWER 1 kg
>Liquid, concentrated power detergent. For manual cleaning of all kinds of waterproof surfaces (floors, tiles, windows, etc.). Very gentle on the material and therefore well suitable for sensitive materials like aluminium. Streak-free cleaning effect which results in an outstanding shining effect. Contains natural orange oils which provide a pleasant fresh scent.
orangePOWER application rates:Dilute 25-50 ml of product per 10 liters of warm water.

516 ฿THB
UROPHEN 1 kg
Powerful sanitary liquid detergent with disinfecting agents, prevents emergence of unpleasant odours for a long time. For maintenance of toilets, urinals and sanitary rooms. Easily removes strong soiling and residues (lime, urine, rust). Do not use for cleaning of fittings. Use the sanitary detergents safely. Always read the label and product information before use. For daily cleaning we recommend perlSHINE, alternatively for acid-sensitive surfaces hagodorLILAC or hagodorSPRUCE.
Concentrate: undiluted

498 ฿THB
glassSHINE 1 kg
Liquid glass cleanser. Removes fatty and oily soiling with the power of ammonium chloride from windows, mirrors and all glass surfaces. Is foaming up richly, the foam clings to the glass surface. The product is therefore suitable for the cleaning of ver- tical glass surfaces. Economical in use.
Concentrate: undiluted

184.00 ฿THB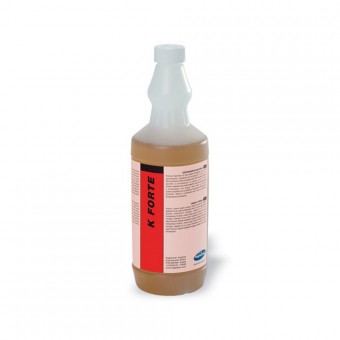 K FORTE 1 kg
Sanitary cleanser dissolves effortlessly even the strongest lime residues, urine, rust and mineralogic sediments like left-overs of cement, concrete and mortar. Removes also algae sediments and dissolves oxide coatings from copper and brass. For basic cleaning of toilets, urinals and tiled surfaces. Apply the product and let it work in for a short time. Remove the sediments with a cleaning pad or sponge and then rinse it with plenty of water. Do not let K FORTE work in longer as absolutely necessary, in order to avoid over-reaction. Use the sanitary detergents safely.
Concentrate: undiluted

480 ฿THB
una SANITARY 1 kg
All-purpose liquid cleanser for sanitary areas. Applicable for toilets, urinals, tiles, fittings, shower cabins and bath tubs. Easily removes lime, soiling and soap residues from hardly accessible places. Decently perfumed, develops a scent of sea freshness. Do not use on marble.
una SANITARY application rates: Dilute 50 ml of product per 10 liters of warm water.

498 ฿THB
sanitarySponges (á 10 pcs.)
Sponges for sanitary cleaning. Convenient and easy to use. There are 10 pieces per pack.

424,00 ฿THB
universalSponges (á 10 pcs.)
Sponges universal for cleaning all surfaces. Convenient and easy to use. There are 10 pieces per pack.

424,00 ฿THB
toiletSponges (á 10 pcs.)
Sponges for cleaning sanitary ware, bathroom and toilet rooms. Convenient and easy to use. There are 10 pieces per pack.

424,00 ฿THB