Bathroom cleaning products
Cleaning of the bathroom is not a pleasant experience. Moreover, it is quite difficult. You must clean the tile, the bath or shower, toilet and mirrors. All this requires time and attention. For achieving good results you will need to use only the best bathroom cleaning products. You also need to use rubber gloves to prevent the active ingredients of detergent from falling on the open parts of the hands.
Different types of tile or coating baths require special detergents that are sometimes difficult to buy. Light Step offers professional bathroom cleaning products and detergents that will be perfect for cleaning all types of baths, mirrows, toilets and floors. These detergents are absolutely safe and non-toxic.
Средства для чистки ванны и туалета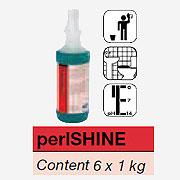 perlSHINE 1 kg
Liquid sanitary detergent for daily maintenance cleaning. Removes lime, soiling and sediments easily. With disinfecting impact and unique effect of pearl gloss. For use in lavatories, urinals and sanitary rooms. Leaves a surface free of drip traces, therefore no dry wiping is necessary. Regular use prevents the emergence of black mould. In case of persistent sediments (e.g. urine) we recommend UROPHEN. Use the sanitary cleanser safely.
perlSHINE application rates:Dilute 25-50 ml of product per 10 liters of warm water

498 ฿THB
perlSHINE 10 kg
Liquid sanitary detergent for daily maintenance cleaning. Removes lime, soiling and sediments easily. With disinfecting impact and unique effect of pearl gloss. For use in lavatories, urinals and sanitary rooms. Leaves a surface free of drip traces, therefore no dry wiping is necessary. Regular use prevents the emergence of black mould. In case of persistent sediments (e.g. urine) we recommend UROPHEN. Use the sanitary cleanser safely.
perlSHINE application rates:Dilute 25-50 ml of product per 10 liters of warm water

2900 ฿THB
UROPHEN 1 kg
Powerful sanitary liquid detergent with disinfecting agents, prevents emergence of unpleasant odours for a long time. For maintenance of toilets, urinals and sanitary rooms. Easily removes strong soiling and residues (lime, urine, rust). Do not use for cleaning of fittings. Use the sanitary detergents safely. Always read the label and product information before use. For daily cleaning we recommend perlSHINE, alternatively for acid-sensitive surfaces hagodorLILAC or hagodorSPRUCE.
Concentrate: undiluted

498 ฿THB
UROPHEN 10 kg
Powerful sanitary liquid detergent with disinfecting agents, prevents emergence of unpleasant odours for a long time. For maintenance of toilets, urinals and sanitary rooms. Easily removes strong soiling and residues (lime, urine, rust). Do not use for cleaning of fittings. Use the sanitary detergents safely. Always read the label and product information before use. For daily cleaning we recommend perlSHINE, alternatively for acid-sensitive surfaces hagodorLILAC or hagodorSPRUCE.
Concentrate: undiluted

2900 ฿THB
glassSHINE 1 kg
Liquid glass cleanser. Removes fatty and oily soiling with the power of ammonium chloride from windows, mirrors and all glass surfaces. Is foaming up richly, the foam clings to the glass surface. The product is therefore suitable for the cleaning of ver- tical glass surfaces. Economical in use.
Concentrate: undiluted

184.00 ฿THB
glassSHINE 10 kg
Liquid glass cleanser. Removes fatty and oily soiling with the power of ammonium chloride from windows, mirrors and all glass surfaces. Is foaming up richly, the foam clings to the glass surface. The product is therefore suitable for the cleaning of ver- tical glass surfaces. Economical in use.

1180 ฿THB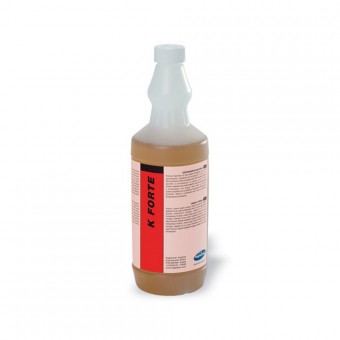 K FORTE 1 kg
Sanitary cleanser dissolves effortlessly even the strongest lime residues, urine, rust and mineralogic sediments like left-overs of cement, concrete and mortar. Removes also algae sediments and dissolves oxide coatings from copper and brass. For basic cleaning of toilets, urinals and tiled surfaces. Apply the product and let it work in for a short time. Remove the sediments with a cleaning pad or sponge and then rinse it with plenty of water. Do not let K FORTE work in longer as absolutely necessary, in order to avoid over-reaction. Use the sanitary detergents safely.
Concentrate: undiluted

480 ฿THB
K FORTE 10 kg
Sanitary cleanser dissolves effortlessly even the strongest lime residues, urine, rust and mineralogic sediments like left-overs of cement, concrete and mortar. Removes also algae sediments and dissolves oxide coatings from copper and brass. For basic cleaning of toilets, urinals and tiled surfaces. Apply the product and let it work in for a short time. Remove the sediments with a cleaning pad or sponge and then rinse it with plenty of water. Do not let K FORTE work in longer as absolutely necessary, in order to avoid over-reaction. Use the sanitary detergents safely.
Concentrate: undiluted
hagodor SPRUCE 1 kg
Liquid powerful scented cleanser. Removes effortlessly all kinds of soiling (except algae, lime, urinary salts) on all surfaces in sanitary and washroom units, as well as on marble. Very popular for the cleaning of locker rooms, saunas, indoor and outdoor pools etc. Prevents constantly the arising of unpleasant odours. Spreads out a pleasant pine scent. For removal of persistent sediments like lime salts we recommend perlSHINE. Use the sanitary detergents safely. Always read the label and product information before use.
hagadorSPRUCE application rates: Dilute 50 ml of product per 10 liters of warm water.

498 ฿THB
hagodor SPRUCE 10 kg
Liquid powerful scented cleanser. Removes effortlessly all kinds of soiling (except algae, lime, urinary salts) on all surfaces in sanitary and washroom units, as well as on marble. Very popular for the cleaning of locker rooms, saunas, indoor and outdoor pools etc. Prevents constantly the arising of unpleasant odours. Spreads out a pleasant pine scent. For removal of persistent sediments like lime salts we recommend perlSHINE. Use the sanitary detergents safely. Always read the label and product information before use.
hagadorSPRUCE application rates: Dilute 50 ml of product per 10 liters of warm water.

3200 ฿THB
ZACK 10 kg
Basic detergent for waterproof and alkali insensitive floors (except linoleum, wood and rubber floor). Strong detergent that also easily and rapidly removes persistent detergent coatings. Always read the product information and label before use.
ZACK application rates: Dilute 1liters of product per 10 liters of warm water.

2900 ฿THB
una SANITARY 1 kg
All-purpose liquid cleanser for sanitary areas. Applicable for toilets, urinals, tiles, fittings, shower cabins and bath tubs. Easily removes lime, soiling and soap residues from hardly accessible places. Decently perfumed, develops a scent of sea freshness. Do not use on marble.
una SANITARY application rates: Dilute 50 ml of product per 10 liters of warm water.

498 ฿THB
una SANITARY 10kg
All-purpose liquid cleanser for sanitary areas. Applicable for toilets, urinals, tiles, fittings, shower cabins and bath tubs. Easily removes lime, soiling and soap residues from hardly accessible places. Decently perfumed, develops a scent of sea freshness. Do not use on marble.
una SANITARY application rates: Dilute 50 ml of product per 10 liters of warm water.

3600 ฿THB
deoFRESH 1 kg
Ready-to-use, effective spray. Reliably removes disturbing smells (kitchen smell, ci- garettes, sweat, garbage smell a.s.o.) out of the air, out of fabrics (curtains, furniture, carpet, car seat, clothes). deoFRESH spreads out a nice flowery fresh scent. For room perfuming we recommend the room spray sunFRESH.

1100 ฿THB
TO REQUEST CALL US RIGHT NOW
09-1179-1177